White Chocolate And Peppermint Hot Chocolate
|
White Chocolate And Peppermint Hot Chocolate , an all time favorite.  Okay, now that the sleds are put away, and boots, hats & mittens are set aside to dry. Those frosty cheeks and hands are just waiting for a warm special treat. 
So let's not disappoint them, just serve this toasty beverage and it will surely chase the chill out of a cold winter's night or day. 
Enjoy !
 Prep Time:   20 min                                                 Cook Time:10 min                                Yields  4 servings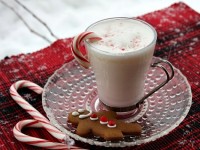 Ingredients:
2/3 cup chilled whipping cream
8 hard red-and-white-striped peppermint candies, coarsely crushed (or candy canes)
3 1/2 cups milk (low fat is fine)
8 ounces good-quality white chocolate (such as Lindt or Baker's), chopped
1/2 teaspoon peppermint extract
additional coarsely crushed peppermint candies
For Direction:  click here.